Nothing quite matches the feeling of seeing your first few sales roll in. Not only does it mean your products were the right choice, but it also means you are getting paid, that's what you're doing this for right?
Whether you are new to the platform or want to know when you can expect to receive your payments, these details on the Amazon seller payment schedule will help.
Let me take you through some of the questions I commonly receive from new sellers.
How Long Does Amazon Take to Pay Sellers?
Whether you are selling products in the U.S. or the United Kingdom, the Amazon seller payment schedule is the same.
If you have a professional account, you can expect to be paid bi-weekly. If you happen to be an individual seller, you can expect to see money in your account every week.
Sellers also have the option to choose a manual disbursement once every 24 hours. Once approved, Amazon will deposit the funds within five business days.
We've always stuck with the bi-weekly payments, and it's always worked well for cash flow.
How Does Amazon Seller Payment Work?
How Amazon pays sellers also depends on the type of account.
As mentioned above, the settlement period for professional sellers is 14 days.
Any positive balance is transferred to the bank account you have on file via an electronic fund or ACH transfer. Any negative balances will be settled using the credit card you have on file.
While payment holds can affect professional sellers, it isn't common (more on that later).
The payment schedule for individual sellers can get a little more complicated. Any funds that are generated from an order are placed on hold for 14 days. If no issues arise during this time, the balance will carry over to the next applicable disbursement date.
Again, funds will be transferred to the bank account you have on file via an electronic fund or ACH transfer.
Unfortunately, payment cannot be made to credit cards or PayPal accounts.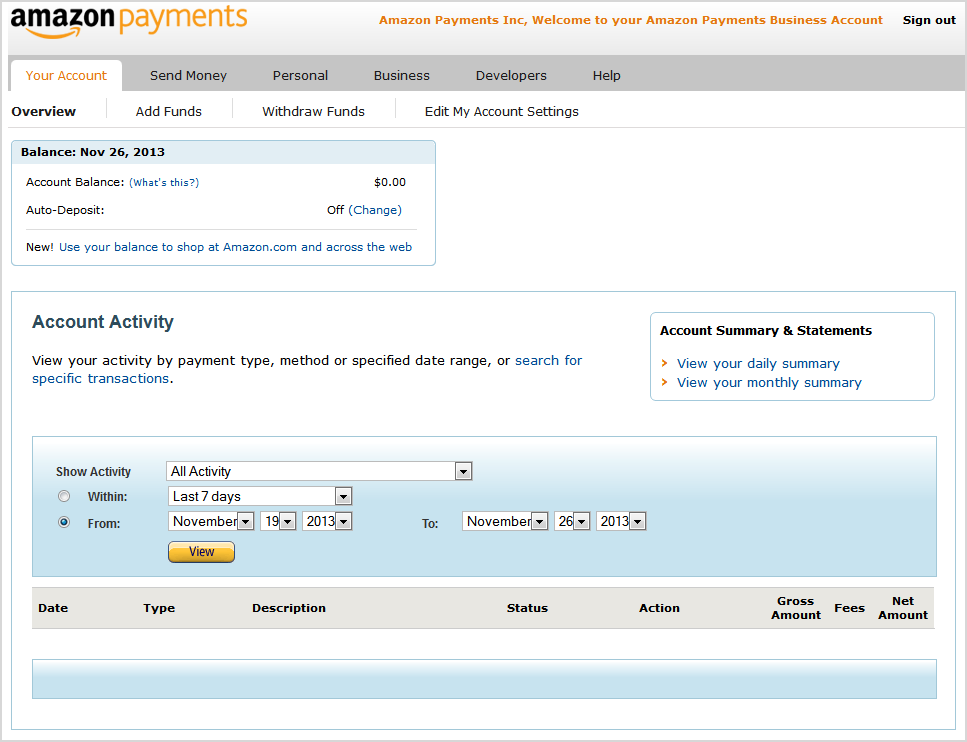 (Source: Amazon Seller Central)
Related: Everything You Need To Know About Search Find Buy
Amazon Seller Payment Terms
While sellers are paid out every 14 days, your payout's actual day depends on when you signed up on Seller Central.
Let's take a closer look at the Amazon payment cycle to understand better how this works:
(Source: Payability)
A customer purchases a product, after which Amazon places your funds on hold – this is where the 14-day period comes into play.
Once the customer receives their order, they are given a chance to return the order for a week before your funds are released. Sellers can then transfer the funds to their bank account.
As you can see from the graphic above, it's not uncommon to wait more than 14 days for your payment to be cleared.
Depending on when a product is delivered, your payment could roll over into the next eligible payment period. What's more, it can take 3 – 5 business days for Amazon's transfer to come through.
There is also the potential issue of an account level reserve, which I will explain now.
If you happen to have an older Amazon account, your funds will be automatically disbursed every two weeks. You also can request a transfer at any time, one of our Seller accounts is like this, it's a lot better!
It's also important to note that any Amazon fees can be deducted from your balance at any time, affecting the total you are expecting to receive.
You can find more information on all of Amazon's fees here.
Getting Paid Faster – Is It Possible?
If you are eligible to participate in Amazon's Get Paid Faster Services, you can get paid faster for invoiced orders.
Invoiced orders are generally credited to your available balance by the 15th of every month at the latest. The catch is that there is a 1.5% processing fee that's applied to all sales. This is in addition to the other fees you have agreed to pay Amazon.
Sellers can enrol for the service using the Invoice Payment Settings option on their account info page.
This service is available to sellers in the United States and the United Kingdom.
What is an Amazon Reserve?
An Amazon account level reserve (previously known as unavailable balance) is an amount that is set aside to cover any claims or chargebacks from customers.
Before there was a holding period, sellers used to sell large quantities of inventory for a low price and used long delivery times. The result? The seller collected their money and disappeared before Amazon understood there was no product, to begin with.
This is the reason why Amazon put a reserve policy in place. It usually occurs on professional and individual seller accounts.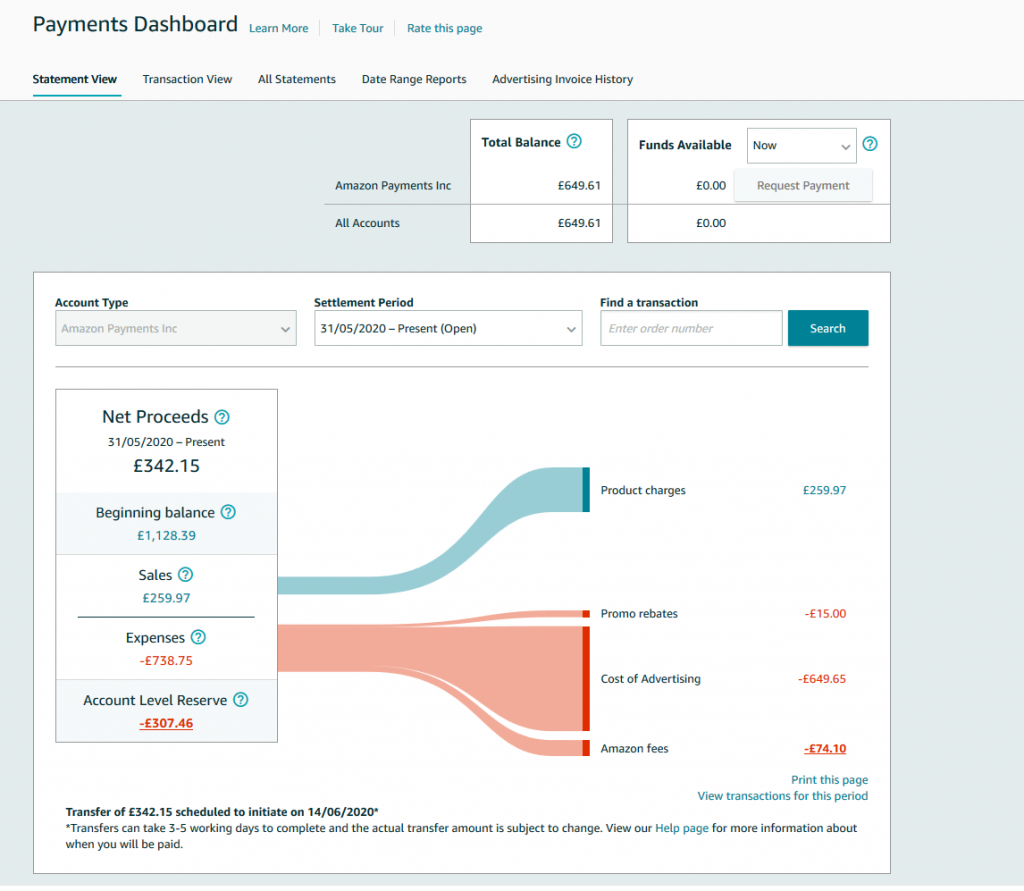 (Source: Seller Central)
The bad news is this: if you notice an account level reserve on your Amazon payment report, you could wait twice as long to be paid.
There are several reasons why some of your funds have been reserved.
The most common are:
Order Delivery Delay. When Amazon doesn't receive a delivery confirmation, it can cause them to place some of your funds on hold. This is to ensure they can cover any claims or customer chargebacks.
Poor Performance Metrics. Should your seller performance drop below Amazon's benchmarks, it could lead to an unavailable balance. This is because poor performance generally leads to more returns.
A-to-Z Claim. Buyers that file an A-to-Z claim can cause an account level reserve. As soon as there is a resolution, the funds are released.
Account Review. Any sudden changes in your account activity may cause Amazon to place some funds on hold. Once your account is reviewed and cleared, the funds are released.
Fortunately, you can take steps to avoid an unavailable balance, including auditing your account, seller performance, and customer feedback regularly. If you are keeping customers happy, Amazon is happy.
It's best to get to the root of the problem sooner to avoid any payment delays.
However, keep in mind that an account level reserve can occur anyway, especially if you sell in specific verticals. Categories such as clothing can result in a high return rate so that an unavailable balance would be more common.
In Closing
Now that you have a better idea of when you can expect to get paid, you can better plan your cash flow.
Since tax is also something to consider when planning your cash flow, I thought it would be useful to include this guide on how to get tax-exempt on Amazon – you might be able to save some money.
More soon.
Tags:
Amazon beginner
,
amazon FBA
,
amazon seller
,
amazon seller questions