Today i'm going to run you through some of the best shopify YouTube channels that i have found.
I'm doing this because i want you to benefit in the same way i have…
You can learn a lot about Shopify without having to spend any money.
If you don't already you should think of YouTube as a free learning resource.
Knowledge is the golden ticket to freedom and earning potential. 
So, how big is YouTube, and why is it so popular?
YouTube is the second largest search engine after Google…
Currently YouTube has around 1.9 billion monthly active users.
Users come to YouTube to create, educate or learn something for themselves.
Currently it's the second-largest social media platform worldwide.
I use YouTube to create content to educate others and i also use it to learn things for myself.
Over the years i have spent thousands on paid courses and mentoring…
But i'd say I've learnt just as much if not more by using YouTube as a free learning resource.
You just need to know who offers the most useful content in your particular subject area.
You can learn pretty much anything, if you know where to look.
I'm going to assume you are reading this article because you want to learn more about shopify…
That's why today i'm going to show you best YouTube channels i have found when it comes to Shopify.
For any of you that don't know, Shopify is one of THE most popular eCommerce platforms out there.
The software application makes it possible for you to build your very own online store.
The platform gives you the tools and features you need to create, manage and grow your online store.
Thanks to the drag-and-drop functions of Shopify you don't need to spend money hiring a web developer or designer…
It really is very easy to use…
It's affordable and a suitable for many different types of business.
I have written a "Dummies Guide" for anyone that's just starting out and wants to learn more (I'll leave the link below).
Here is a brief list of the different types of businesses Shopify might suit:
Dropshipping stores
Brick & Mortar Stores
Classic eCommerce website
Digital Product Stores
Consultation Business
Amazon FBA Business
Print On Demand Business
Shopify really does suit a whole range of different businesses, far more than i have covered above.
Anyway, now you have a brief understanding of the platform let's get into the main reason you are here.
While there are numerous resources for people to learn about Shopify online, for me YouTube is the easiest way to do it.
I'm a visual learner and i learn best when i'm shown how things are actually done.
By watching a screen-share i was able to set up my very own Shopify store in about 10 minutes…
To prove it i recorded a screen share to show you how on my very own YouTube channel (check out the video below).
So i'm going to be biased as say that actually our channel is and will continue to be a great place to go to learn all about Shopify.
If you haven't already consider subscribing as we document A LOT of what we are learning within our very own online business!
Anyway, there's plenty of other YouTube channels you need to know about.
To help you find the best content i'm going to shine the spotlight on some of the best shopify YouTube Channels i have found.
Best Shopify Channels On YouTube
Now i have no affiliation with any of these channels, let me make that clear!
I cannot vouch for any of them, i can only share the channels i have found to be the most useful.
Verum eCom
So John Yoon is relatively unknown, their channel "Verum Ecom" is up and coming, that's for sure.
A lot of the popular Shopify YouTube channels already benefit from their existing audience.
This means it's easy for them to put up a video or two about shopify and instantly hold A LOT of the views.
Verum Ecom's YouTube channel is relatively new, currently they only have 9 videos…
With that many subscribers you know the content must be good!
The only way i found John's first shopify related video was because it had gone viral…
It had gone viral because it was a very good video…
Link to their website: Verum Ecom
Well done to John and all of the Verum Ecom team! Keep the usual content coming!
Wholesale Ted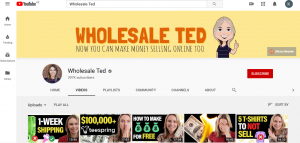 Wholesale Ted is a great channel when it comes to learning about Shopify…
The channel will teach you everything you need to know about dropshipping and digital marketing in general.
Created by Sarah, the channel covers the most important details of Shopify and dropshipping.
This channel shares regularly shares useful content, I've always found it easy to follow.
Wholesale Ted has taken dropshipping to the next level…
They cover the basics and the more advanced elements of dropshipping.
You can learn how to create an online store on a variety of different platforms.
The majority of the channel's content is based on Dropshipping…
You will learn about the things you should (and shouldn't) do as a complete beginner.
The channel also shows you how to drive traffic and ultimately convince to people to buy.
Other topics include SEO, Amazon FBA, getting traffic, and online business in general.
Wholesale Ted prides itself on creating the highest quality content.
The team running the channel certain have a lot of experience when it comes to eCommerce.
If you want to learn about drop-shipping it's a good idea to learn form people that have been there and done it.
For me you need to practice what you preach and to me this channel does exactly that.
If you'd like to learn more head over to the Wholesale Ted channel…
They cover a lot useful Shopify related topics.
Casual eCommerce
The channel is run by a guy called Jake Alexander.
Jake has been selling products and marketing online since 2013.
Casual eCommerce is another YouTube channel with a lot of useful shopify related content.
This channel features short videos that always go directly to the point (most of the time anyway).
The content is exactly what you need if you are stuck for time the videos are usually short, valuable knowledge, and easy to digest.
I'd especially recommend checking out Jake's channel if you are looking to improve an existing store…
I'm sure you can see why the videos below might be useful…
Another great channel when it comes to Shopify or commerce related content.
Well done to Jake and all of the Casual commerce team!
Dan Dasilva
The Dan Dasilva channel is a slightly bigger YouTube channel in comparison to the last two I've mentioned.
I always worry that as channels get bigger they start to focus on views rather than value…
From what i've watched Dan still continues to provide a lot of free value.
He has had immense success in dropshipping and eCommerce alike.
His success in eCommerce was the reason he decided to start a channel on YouTube.
If you are looking for detailed guidance on dropshipping and other eCommerce opportunities Dan's channel is another one that's worth looking at.
He offers knowledge gained from years of first-hand experience…
In addition to dropshipping, his channel also covers a lot of other related topics.
Some of the topics covered in his channel include:
Best dropshipping advice for beginners
Product selection, product testing, and products to avoid
Mistakes to avoid in dropshipping
Other ideas for generating passive income
Ecommerce software tips and reviews
Facebook marketing strategies
Dropshipping store layout guidance
So, if the above topics are something you are interested in it's definitely a channel worth subscribing to.
He is committed to putting out three videos a week, from personal experience i know that's a lot of work…
YouTube is something he takes very seriously.
The Realistic Entrepreneur
This is another useful channel to have as a resource…
The channel is run by a guy called Adam Thomas and he seems to be like for his fairly straight forward, honest nature.
He is a refreshing character when you compare him to the other Lamborghini gurus all over YouTube and Internet.
I've enjoyed watching his videos because they are valuable and that's why i use YouTube…
I want valuable information.
Like anyone of course he has something to sell, he sells an online course and coaching – I can't vouch for that as i haven't bought it.
What i can say is the content on his channel is pretty good.
Again it is pretty dropship heavy but there is a load of useful stuff, especially when it goes to Google Adwords and Facebook ads.
If you are interested in learning more about the paid advertising methods his channel is worth checking out.
There is also a lot of useful Shopify related information so it's another one i'm happy to recommend.
Gabriel St-Germain
Gabriel St-Germain's YouTube channel is all sorts of cool.
With his content you are introduced first hand into his spectacular and profitable world of eCommerce.
A lot of the content is aimed at drop shippers, especially those that are looking to use Shopify for exactly this reason.
You will receive all sorts of practical tips that should increase your stores visibility and sales.
The channel also covers Shopify Troubleshooting and how you make the most out of Facebook ads.
It must be said a lot of Gabriel's techniques revolve around running FB ads.
New videos are uploaded on the channel each week, and Gabriel takes the time to respond to a lot of the comments on each video.
This is a huge task but i always find that a good content creator spends time speaking to people within their community.
The other topics covered on the channel are:
Dropshipping
Facebook Ads
More Dropshipping & Facebook Ads
Ok so you get my point, his sole focus is on drop shipping…
I think that's one of the reasons his channel as had such great success!
He has kept a narrow focus and delivered huge value for FREE… Of course you can then buy his course if you want to learn more 😉
From a marketing specific you can learn a lot from the above sentence.
Provide value up front for free with no expectations…
This allows you to build an audience of people that trusts you…
Then you can create a product to make life easier for them in some way.
Anyway, i've gone off topic a little bit but that's exactly what Germain has done with his free dropshipping course "Playlist".
On the channel you'll learn about:
Product research
Facebook advertising
One-product dropshipping
Optimization
Scaling
Although Gabriel's channel hasn't been around for that long, the value he offers is obvious.
You don't obtain that many subscribers with only 28 videos.
King COMM
King COMM is another very useful YouTube channel for anyone interested in Shopify.
Most of the value for me has come from the videos about running Facebook ads.
Now to become a success with Shopify you don't HAVE to learn how to run facebook ads.
You just need to be able to drive attention to your store…
I should add that if you are doing dropshipping you will have to get very good at running Facebook ads.
It's the way most people do it anyway.
Again the focus here is on dropshipping…
But even if you aren't doing this yourself you can learn a lot about running paid ads and this will definitely help with Shopify!
Kevin David
Now this one may well divide opinion…
Kevin David is very well known in the digital marketing space.
His channel covers everything from sales funnels to Amazon FBA.
He has a fair few useful videos but a lot of the content tries to direct you to buying one of his digital products…
Kevin has had a little bit of negative press in the past but he can't be where he is without providing some value.
This channel is different to a lot of the others ones I've mentioned because it has a much wider range of content.
His channel covers the following topic areas:
Drop-shipping
Building Your Own Online Course
General Online Business
Entrepreneurship
Amazon FBA
Passive Income
This channel is a good resource for anyone interested in their horizons.
He also covers a lot of the Shopify Fundamentals so it's only right that i give this channel a mention.
For me i like Kevin's content – with over 300 videos you cannot doubt his work rate.
Related: The Best Amazon FBA Blogs I Follow
Final Thoughts – Have I Missed Anything?
So there we go, for me these are some of the best shopify related YouTube channels.
I'm fully aware that i may have missed some good channels…
Please let me know if you have any good YouTube channels that should have made this list!
If you don't agree with any of my choices, please let me know why! I'd love to hear from you… 
As you may know i have a fair few shopify related videos on my own channel.
If you are a complete beginner and you want to know more about the basics of Shopify, you might find the video below useful.
Thanks for taking the time to read this article.
If you have any thoughts or questions let me know below and i'll do my best to help.
More from me soon,

Nick