Every online seller should know about barcodes. When I started selling online, I struggled to understand them fully. Today I will be answering the question: Do I need a barcode to sell online?
This article is going run through everything you need to know about barcodes, as Amazon is one of the most popular selling destinations we are going to focus on practical examples relating to that platform.
When you start listing your products on Amazon, UPC codes are required. If you've never seen this acronym before, you may be a bit confused.
The good news is barcodes aren't complicated; you need a basic understanding of what they're all about and what a platform like Amazon needs from you.
Let's get into it.
Do I Need a Barcode to Sell Online?
The answer is, yes, you need a barcode to sell online. Amazon and many other platforms won't ask you for a barcode. Instead, they will ask you for a UPC code (or an EAN code if you sell products in Europe).
When selling on Amazon, you'll need to complete the Product ID section.
When selling in the US you'll need to select UPC from the drop-down menu.
You won't be able to list new products without this code (unless of course, you file for a UPC exemption).
If you happen to be reselling a product, you can enter the existing barcode number in the relevant product identification area.
If you're short on time today, here is a video explaining the different barcodes platforms like Amazon require.
The Basics of Barcode Types
Before I run through the product example, I think you'll benefit from knowing more about the different barcode types.
ASIN (This is Amazon-specific)
Also known as Amazon Standard Identification Number, ASIN is a 10-digit number that's assigned by Amazon once a product is listed. Amazon needs a UPC code to create an ASIN number for a product.
GTIN
GTINs form part of the product codes you use, including UPCs and EANs. GTINs consist of 14 digits and are used to identify products or services.
GCID (Again this is Amazon-specific)
Once you sign up for Amazon's Brand Registry program, you receive a unique identifier (GCID). This code is required when listing your products to help identify them. This ID is reserved for products that form part of your registered brand.
In the past, GCIDs were used in place of a UPC, but this is no longer the case. If you are approved on Amazons Brand Registry program but don't have a barcode, you'll need to apply for GTIN exemption.
UPC Codes – Amazon's Main Requirement
Also known as the Universal Product Code, a UPC is one of the most common barcode formats used today. Not only is it an Amazon requirement, but it's used in physical retail stores globally too.
Retailers need suppliers to add UPC codes to products to track them – Amazon does the same thing.
You will need a unique UPC code for each type of product you want to sell. If you have 100 units of product A, they can all carry the same UPC code. However, products A, B, and C all need different UPC codes.
The UPC code is the digits underneath the barcode.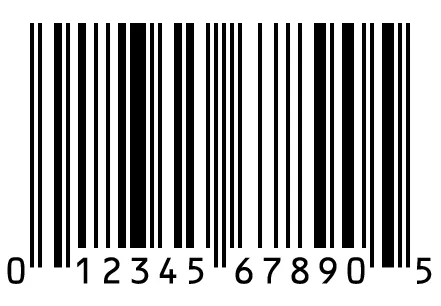 If you're planning to sell products within a European market, you're also going to need an EAN code instead.
EAN stands for European Article Numbers, with EAN-13 and EAN-8 being the two most popular forms amongst online sellers.
The type of EAN used depends on factors such as product category and distribution channel.
Purchasing UPC or EAN Codes
Online sellers usually either purchase their codes from GS1 or a reseller.
Just be sure to do a bit of research on resellers because many of them replicate and resell Amazon codes, which can cause problems in the long run.
On the whole, I'd avoid purchasing barcodes from anywhere but GS1.
If the code doesn't match GS1 database records, your listing could potentially be suspended from the platform you sell on.
GS1 created the GTIN system, so if you want to avoid future hassles, I suggest purchasing your codes directly from them.
The Process of Purchasing & Assigning UPC & EAN Codes
Here are the necessary steps you would follow to purchase your barcode.
Apply for a Company Prefix
The company prefix refers to the first 6 – 8 digits of your barcode – it's the product manufacturer's unique identifier. The company prefix will stay the same across each of your product barcodes.
The unique product code that follows the company prefix is what identifies your products.
To start purchasing UPC codes, you need to complete an online application form on the GS1 website.
Before you begin the application process, figure out how many barcodes you think you'll need.
Along with the number of products, keep in mind that different product sizes and variations need their own barcodes.
Pricing of barcodes depends on how many you plan to purchase.
If you're still undecided on the platform you want to sell on, give this article a read.
Assign Unique Numbers to Your Products
Also known as GTINs, each of your products now need a unique number. Any UPC code must be 11-digits long and have a "check digit" – GS1 calculates this.
A GTIN is a combination of your company prefix, a unique product number, and your "check digit".
You can perform a bulk GTIN calculation using this tool from GS1.
Choose and Place Your Barcodes
If you've chosen to go down the Amazon FBA route, you will be required to place UPC barcodes on your products. These barcodes are used to track items throughout the order fulfilment process.
For sellers who won't be packaging or designing their labels, you can obtain a digital barcode file from GS1, which can be incorporated into the label.
If your labels or packaging is already complete, you can always order adhesive barcode labels that can be applied manually.
Whether you're using a sticker or digital file, place your barcode in a visible place. It's also essential for the barcode to have enough white space around it to make it easier to scan.
When it comes to Amazon, things get a little more complicated, to read our full guide on Amazon barcodes click here.
Listing Your Products on Amazon
Now that you understand what's required in terms of barcodes, you can start the process of listing your products on Amazon.
Again, I highly recommend skipping potential problems and instead purchase your UPC codes directly from GS1.
If you are new to the world of Amazon, I think you will find this guide to product packaging and inserts useful too.
As always, if you have any questions or comments, I would love to hear from you in the comments section below.