DS Amazon Quick View is an extension that's designed to be used with Google Chrome, You might hear people refer to it as amazon quick view or just quick view. It gives users the option to glance at product information without having to navigate to individual product pages.
You simply hover over a product with your mouse, so simple but so effective!
Once you hover over a product, you will see the following details:
Category Rank. Shows Amazon's best seller rank in that product's parent category.
Sub-Category Rank. Shows Amazon's best seller rank in that product's sub-category.
ASIN Number. Access any product's ASIN number from within the listing results.
Quick Links.com tracks a product's price history. DS Amazon Quick View provides you with quick links for this.
Sellers. Find out how many sellers there are for a specific product. There are also quick links to those listings.
In a lot of my YouTube videos you'll notice that i rely on this chrome extension a lot, it saves a lot of time.
The features shown above are all part of the free version of DS Amazon Quick View, i only use the free version and it's good enough for me!
The chrome extension is free to download from Google's Store.
DS Amazon Quick View Extended Version
The premium version includes some additional functionality.
These are the extended features:
CamelCamelCamel price history without having to click out
Interactive Keepa graph, which also highlights pricing details
Best seller ranking chart
Lowest Fulfillment By Amazon (FBA) pricing information
Buy Box winner notification
Prime and Sold By Amazon filters
The extended version of Amazon quick view obviously gives you more functionality, but is it really worth the cost?
If you want to purchase the extended app, it's going to cost you $19.99.
How to Use DS Amazon Quick View
Downloading the free or premium extension is really simple.
I'll outline the steps below.
Download the Chrome Extension
Using your Chrome browser, navigate to the Chrome App Store and search for the amazon quick view extension.
To make it easy for you, here are the actual links:
Pick Your Settings
Once the extension is installed, you will be presented with several setting options. I recommend that you go ahead and tick all of the boxes besides 'hide sub-ranking' – this is information you want to be able to see.
Open Amazon and Start Browsing
If you're using the free version of the extension, you will only see product information on the .com version of the site. Once you're on Amazon, start searching for products, which will appear in a list view. Under each product, you will notice additional information.
Browse Stats
You will now see rankings under each product. If you want to see all the additional information, press the Command or Ctrl button on your keyboard and hover over the product image. A box will now pop up that contains all of the extra product information.
Currently, I don't use the extended version, the free does enough for me. Most sellers i know just use the free version of quick view, you'll see why later in this article.
DS Amazon Quick View Alternatives
Here are a few alternatives to DS Amazon Quick View that you might want to consider.
Jungle Scout
The Jungle Scout Chrome extension is useful, you benefit from a lot of detailed data. You will however have to learn to use it in the right ways.
This is one of the most trusted research tools around today and they currently support marketplaces in the US, UK, Mexico, India and most other countries across Europe.
Users can access product data without the hassle, including rating and review tracking and monthly sales and revenue details.
Jungle Scout does have advanced web-based software too, if you're interested you can read my full review here.
However if you just want to use the extension, you can do so for free for 14-days. Thereafter, prices start at $29 per month.
This isn't my number #1 recommendation but it is a pretty good alternative to ds amazon quick view.
AMZBase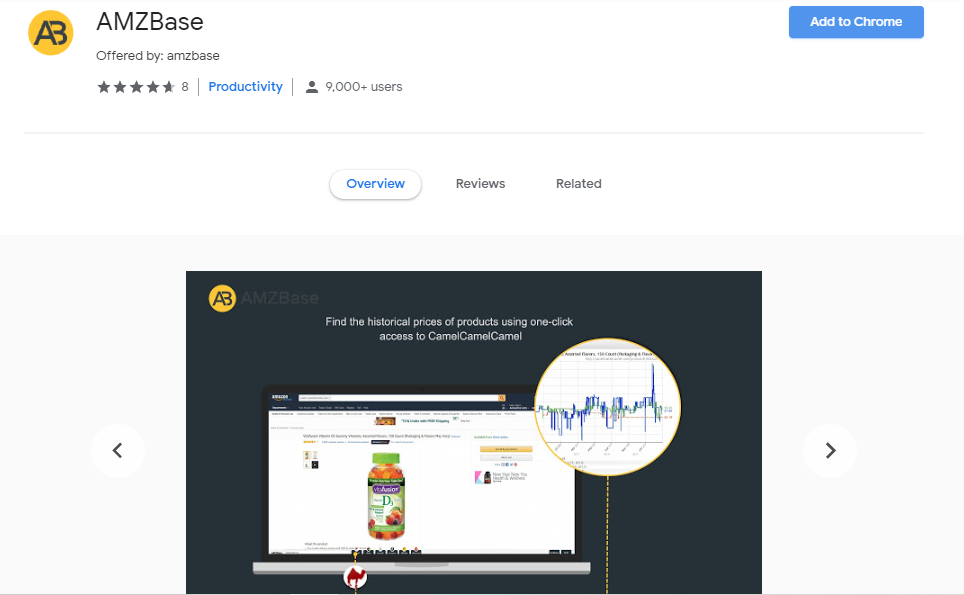 If you want to speed up your product research, AMZBase is another good alternative.
By obtaining product ASIN numbers and descriptions, you can easily find the products you want to sell.
AMZBase is a free extension for Chrome users that includes an internal search engine for Amazon products.
You can also easily calculate FBA profits and display historical product pricing data.
It's another free tool that allows you to view the data you need, in my opinion ds quick view is a better option.
AMZ Seller Browser
The AMZ Seller Browser extension was designed to speed up the product research process.
Basically, the main aim is for sellers to find products based on product pricing and historical rank data.
This extension also works with CamelCamelCamel.
The extension is free and includes features such as quick product viewing and competitor data.
There is also a handy Facebook group that you can join for support and guidance.
Again, it's not a bad tool but it wouldn't be my #1 choice.
Helium 10
I am a big fan of Helium 10 (in case you didn't already know that). T
his is my number #1 recommendation as a DS Amazon quickview alternative.
In the video below you'll see how i use this chrome extension to take advantage of my competitors Amazon data.
Helium 10 also offer a web-based platform alongside their Chrome extension.
You can try their web-based software for free, but i'd recommend going for one of the complete packages.
You will soon realize why so many users switch to a paid plan, we couldn't be without it.
Anyway, the Chrome extension is still very useful and is ideal for those looking to take their Amazon account to the next level.
If you haven't before I'd also encourage you to try out the free plan on their web platform.
If you want to find out more about Helium 10, you can read through my full review here.
It's a long article but i explain exactly how we use each and everyone of their tools.
I use the free version of DS Amazon quick view along side Helium 10's paid tools, for me it's a match made in heaven.
Unicorn Smasher
Finally, we've got Unicorn Smasher, which is a fun Chrome extension designed to help you find the products that will make you the most money.
This extension gives you access to detailed product and competitor data and opportunity scores, all of which can be managed from a user-friendly dashboard.
A little while back i tested the accuracy of a lot of these tools and unicorn smasher didn't perform that well, you can find full details in this article.
I've actually written a full review on Unicorn Smasher too, feel free to check it out and let me know if you have any questions.
Closing Thoughts on DS Amazon Quick View
In my personal opinion, DS Amazon Quick View isn't a terrible extension for Amazon sellers but there are a number of better alternatives.
In my opinion, you shouldn't have to pay for the extended version, I just use the free version and I get A LOT of value out of it.
If you're going to start paying for tools of this nature, i'd do some further research first.
I would suggest looking at other options that will give you a lot more bang for your buck.
I use the free version of DS Amazon quick view alongside a few different paid tools, it's good to have and saves me and my team hours every week.
In my opinion, your hard earned money is better off in your pocket, make use of the free tool and ignore the extended version.
More useful content coming soon!
Nick
eBusiness Boss
Tags:
Amazon Chrome Extensions
,
amazon tools
,
DS Amazon Quick View
,
product research