Having to open multiple product pages and memorize specifications and prices to decide what you want to buy or sell on Amazon is exhausting (and a waste of time).
In this quick guide, I will show you how to compare products on Amazon in a way that will save you time and frustration.
How to Compare Products on Amazon (Buyers Guide)
If you have a specific product (or two) in mind but aren't sure whether it's right for you, here is how you can compare your options more easily.
How Do I Compare Two Items on Amazon?
Open up Amazon. Once you open the Amazon marketplace of your choice on desktop or via the mobile app, search for the item you are interested in.
Open the product page. Once you find one of the products you're considering buying, open up the product page where you can view the specific details.
View similar items. If you are on the Amazon site, you will see a text link under the main description of the product that reads: Compare with similar items. Clicking on this will show you different options. Are you using the Amazon app? You can view similar items in an Amazon product comparison chart further down on the screen.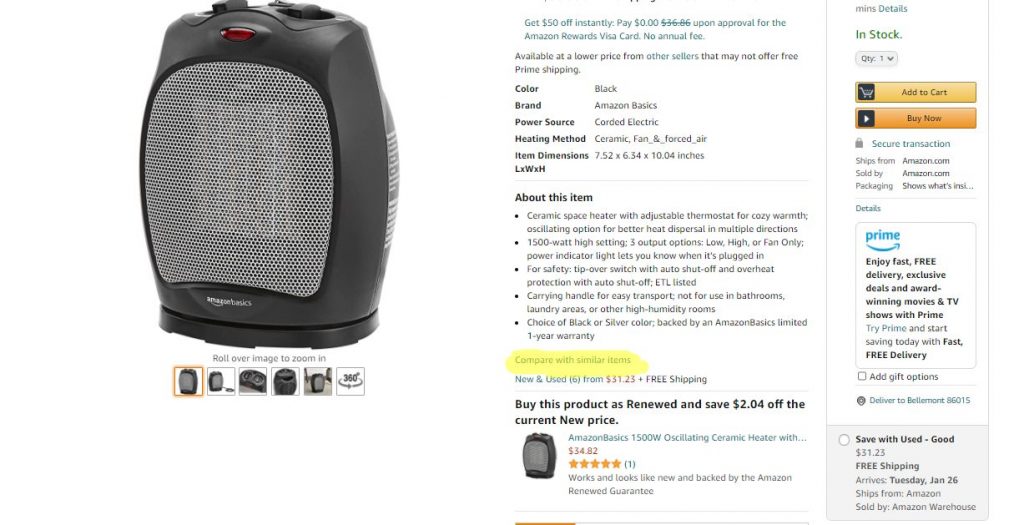 (Source: Amazon.com)
Amazon Comparison Tools
If you don't want to compare products using Amazon's comparison function, you can always use an Amazon comparison website or tool.
FeatureCompare is one of the most popular tools to use, and it works across all Amazon marketplaces. Once installed, you will have the ability to compare prices, descriptions, dimensions, model information, and more.
Here's how to use it.
Install the FeatureCompare extension. Visit the FeatureCompare website and click on Install Page to add the extension to your Chrome browser.
Search for a product. Next, search for a product as you usually would using the search bar at the top of the page. You can use the filters on the right to narrow down your search if need be.
Compare products. You can now click on Compare next to each of the products you want to compare. Stick to comparing 2 – 5 items for the best results. You will see the number of items being added next to the scale item at the top of the page. Once you click on this scale, it will show you an Amazon product comparison chart.
View the full comparison. To see a comparison of all the details associated with each product, click on the blue button at the bottom of the dropdown menu. By clicking on the price of your desired item, you are taken directly to that product page.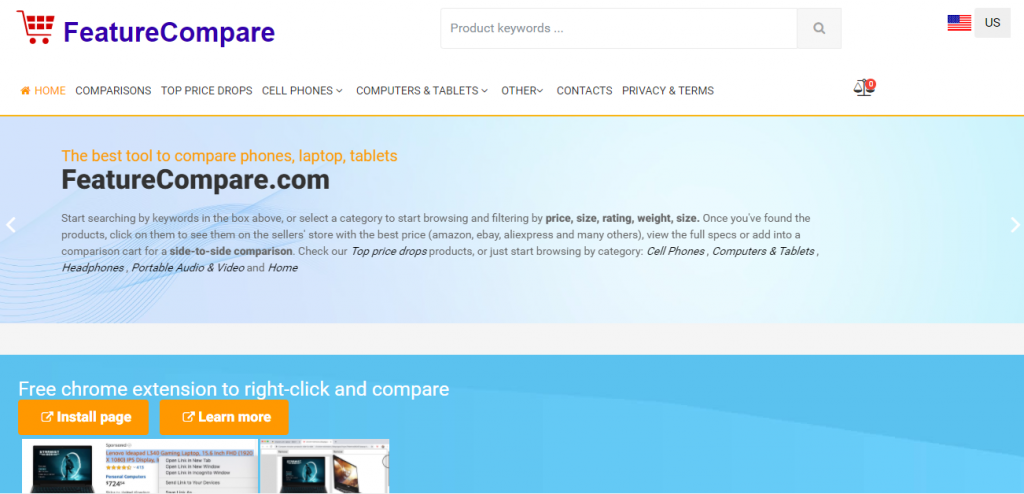 (Source: FeatureCompare)
How to Compare Products on Amazon (Sellers Guide)
Next, let me take you through the details of how to compare Amazon items as a seller.
You could use the methods mentioned above, but I highly recommend using a professional tool such as Helium 10 or Jungle Scout for any product research.
These professional tools directly receive their data from Amazon, giving you access to detailed information on each product you are interested in. Once you build a list of potential products, you can compare all the details within a CSV file, including product prices, descriptions, keywords, reviews and sales.
What's more tools such as this will allow you to delve deeper into these products, as a full-time Amazon seller myself, life got much easier when I started making data-driven decisions.
Both Helium 10 and Jungle Scout have Chrome extensions designed for this exact purpose.
You can save money on each of these tools by using either link above. So that you know, these are affiliate links so we will make a commission if you decide to.
Not only do these tools allow you to find profitable products, but you can put together in-depth keyword research, spy on competitors, and more.
In this video below, you'll see precisely how we do our keyword research using Helium 10.
We use both tools for different tasks within our Amazon businesses.
I have created two extensive reviews on both Helium 10 and Jungle Scout if you want to do some further research to decide which option is best for you, you can read the articles using the links below.
What Products Sell Best on Amazon?
I will once again recommend that you use a reputable product research and comparison tool such as Helium 10 or Jungle Scout to discover profitable products on Amazon.
To aid in your research, I thought I would share some of the characteristics I have picked up on in recent years that are indicative of an excellent product to sell.
A price between $30 and $50. To cover Amazon's fees and the cost of the product you are selling, look for products that retail within this range. Most sellers look at products between $10 – $20 since the barriers to entry are lower, a lot of our best products have been in the $30 to $50 range.
Improvements are possible. In order to make more sales than your competitors, you need to offer them something different. Find a way to differentiate your product; it doesn't have to get complicated; you can find out what customers like and don't like using your competitor's product reviews.
Low seasonality. It's best to opt for a product that you can sell throughout the year or at least most of the year.
Manufacturing is simple. If you are starting out, it's best to avoid any complex products that are difficult to manufacture or tend to have faults (also avoid items that could easily get damaged in transit).
Low import costs. Small, lightweight products can generally be imported via air, making them cheaper to import and sell.
Naturally, these characteristics are just some general guidelines, and I still suggest you use a professional product research tool.
I am also including a video on how to analyze competitor products on Amazon:
Whether you are buying products for personal use or looking for products to sell, comparing products on Amazon is a must. It ensures you cover all your bases and make the most informed decision.
If you are serious about turning your Amazon business into a full-time endeavor, take a look at our Amazon FBA Product Research Course. You'll see exactly how we took our business from a part-time hobby to a full-time job.
More soon.
Tags:
amazon FBA
,
helium 10
,
jungle scout
,
product research