Before September 2020, it wasn't possible to find many details on an Amazon seller – this has now changed. Late last year, Amazon announced that sellers need to disclose both their business names and addresses.
Before I go into how to find a seller on Amazon, here is Amazon's reasons for making this change:
"Over the years, we have developed many ways for sellers to share more about their business, including through features like the Seller Profile page, Store pages for brand owners, and Handmade Maker Profile pages. These features help customers learn more about the businesses of a seller and the products that they are selling. We are making this change to ensure there is a consistent baseline of seller information to help customers make informed shopping decisions."
In my opinion, full transparency is only right.
Anyway, let's get into it.
How to Find a Seller on Amazon
Whether you are looking to buy products or you're performing competitor research, here are the steps you would follow to find a seller on Amazon.
Keep in mind that a seller is not the same as a brand.
Here are the steps you would follow:
Step 1: Once you find the listing you're interested in, look just below the "Add to Cart" and "Buy Now" buttons. You will now see "Ships From" and "Sold By" – it's "Sold By" that will give you the seller's name.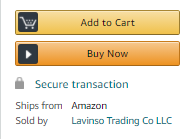 (Source: Amazon.com)
Step 2: In most cases, "Sold By" will show a company name. Clicking on that company name will provide you with further details such as the business address.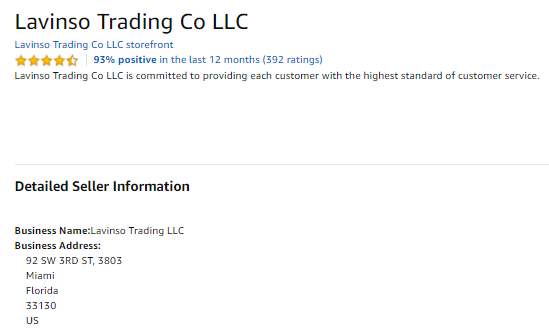 (Source: Amazon.com)
Step 3: To find further details on the seller and the organisation, I recommend performing a Google search using the company name.
In most instances, you will either come across the company website or the company and ownership details via an official business registration website.
If you already know the business or trademark name, you can also type this into Amazon if you wish to find the seller's store and explore its listings.
I've always found the trademark route to be pretty helpful, once you know who a seller is you can take things further.
In the video below, I show you how you can find the suppliers these sellers are using.
Anyway, moving on.
Finding Sellers Via an Amazon Seller's Directory
The other route you can take when searching for an Amazon seller is to use a directory such as Marketplace Pulse, which gives you access to lists of top sellers from across the globe.
AMZ Seller Directory is also a popular option.
Overall, the vast majority of the biggest sellers are based in the U.S., specifically California and New York.
This doesn't necessarily mean they are U.S. companies though. Many of the top companies have branches across the globe.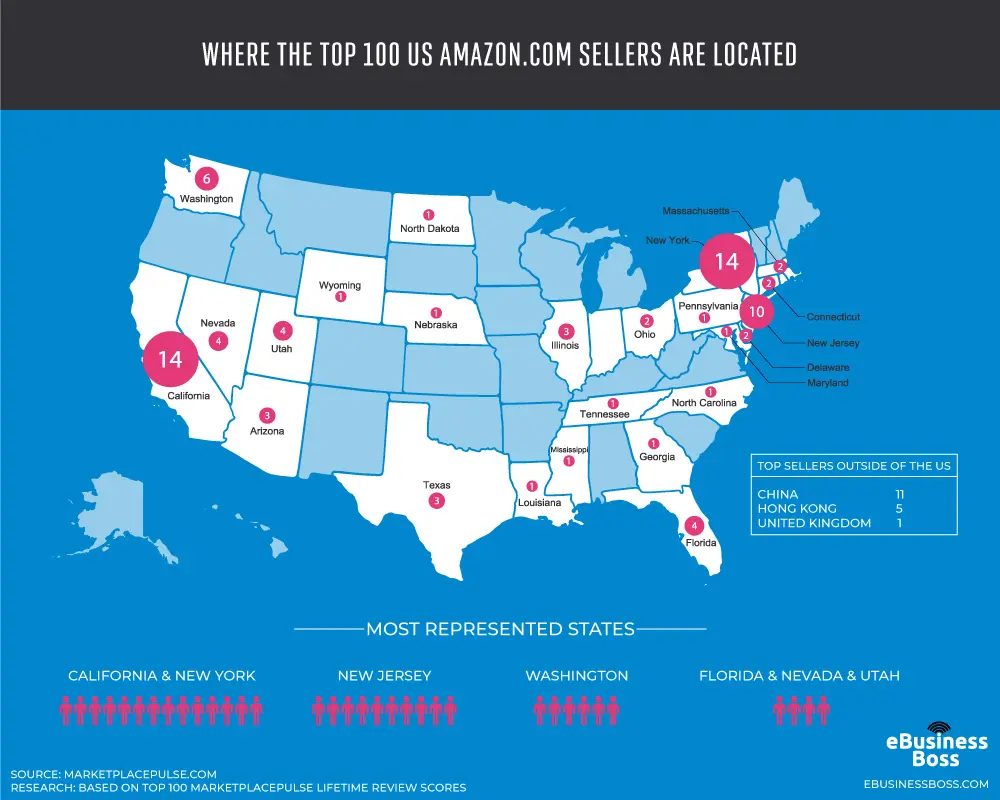 If you are interested in more stats on some of the world's top Amazon marketplace sellers, you can read my full report here.
I also recently interviewed one of the top 100 Amazon sellers.
He shows us proof of his $5 million sales in the last 30 days in the video.
He's a brilliant, kind guy called Aaron Cordovez; I learnt a lot from talking to him.
You can watch the interview below:
How Can I Contact an Amazon Seller?
Should you have access to a company website, you should also have access to the seller's contact details. This is the first way that you can contact an Amazon seller.
The second is via Amazon directly. Once you access a third-party seller's details on Amazon, there will also be an Ask a Question button, which you can use to get in touch.
In some instances, the company will also list a customer support contact number under this button.
In Closing
Knowing how to find a seller on Amazon can be tricky, but fortunately, it is easier than it once was.
Having as many details as possible about your competitors can serve you well as you get started and grow your business on Amazon.
Competitor research is essential, but don't copy anybody exactly. Success comes on Amazon when you make yourself different.
Until next time…
Tags:
amazon FBA
,
amazon seller