If you've searched "How to find my reviews on Amazon" you are in the right place, I'm going to run you through all the steps for both buyers and sellers.
Reviews are important to us all. If you want to purchase a product, you want to know it will meet your expectations. As a seller, reviews are what help you generate sales and establish your listing.
So, where can you find reviews on Amazon should you need to manage them?
Here are the steps buyers and sellers can follow.
How to Find Reviews You've Left on Amazon
If you are a buyer on Amazon, here are the steps you would follow to find your reviews.
Log in to your Amazon account via your Mac or PC.
Click on Accounts & Lists near the top right of the screen.
You will now see an option for Ordering & Shipping Preferences. Under this menu item, click on Your Amazon Profile.
On this page, find the Community Activity section and select View All Activity.
This is where you will find your reviews and where you can either edit or delete them.
Why Can't I See My Reviews on Amazon?
If your Amazon review is not showing up for any reason, it may be in breach of Amazon's review policies. If you don't believe this is the case, wait two weeks for the review to be filtered through the system, it can take a little time.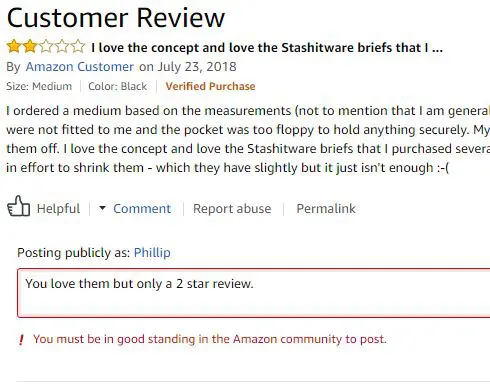 (Source: Seller Central)
Related: How To Find A Seller On Amazon
How to Find Reviews on Amazon Left By Customers
There is a Customer Reviews dashboard that sellers can access to assess the health of their brand.
Here are the steps to follow:
Log in to Seller Central and click on View Brand Dashboard.
On the left, you will see an option for Customer Reviews. This will show you the reviews from the last 30 days, which you can filter based on the date posted and star rating.
You can take one of three actions on each review. Sellers can either add a comment to a review, mark the transaction as complete or report abuse if you feel the comment is unfair.
(Source: Seller Central)
There is also a way to download your Amazon reviews. I have put a detailed guide together here.
Wondering how long it takes for an Amazon review to post?
Expect to wait around 72 hours. It is often sooner than this, but it can also take as long as five days.
How to Remove a Review on Amazon
If at any point you would like to remove your review as a buyer, log in to your Amazon profile and locate the review you want to remove under the Community Activity section.
You now have the option to edit the review or delete it completely.
What if you are a seller though – can you remove a negative review from Amazon?
Amazon is not in the habit of removing negative product reviews, not without good reason anyway. The only time Amazon will consider removing a review is if the content is inappropriate, contains hate speech, or promotes illegal conduct.
If the same buyer seems to be posting multiple negative reviews across several products or listings, Amazon will also consider removing it since this is malicious activity.
You can report abuse via the Customer Reviews dashboard in Seller Central. You can also contact seller support to start building a removal case. Make sure you are only focusing on legitimately negative reviews that could affect your store's health for the wrong reasons. Once Amazon reviews your reasons for wanting the review removed, it will either be removed or left as is.
In closing, generating positive reviews is an ongoing task. As long as you provide customers with the very best experience, there is no reason to worry about the effect of reviews.
Rather than focusing on reviews, focus on the quality of your product offering and your customers' satisfaction.
Amazon limit the contact sellers can make with their customers if you want to contact your audience when you please you are going to need to build community away from Amazon. We like to build email lists and social media followings as our external customer touch points.
If you would like to learn a thing or two from some of the best marketplace sellers on Amazon, you can read about the top sellers in the world here.
Until next time…
Tags:
Amazon
,
amazon seller
,
amazon seller questions