Today I'm going to show you how to find products to sell on Amazon.
This is going to be a step-by-step guide to help you find the right product opportunities.
If you want to build your own passive, online business Amazon is a great place to do it.
My name is Nick (Hello, that's me above) and i have been a full-time Amazon seller for over two and a half years.
A few years ago i felt stuck, working in a job that i really didn't like…
Now don't get me wrong, it could have been much worse! I just wanted more out of my current situation.
When I first started learning about selling on Amazon I was hooked almost immediately.
If you understand how to do it properly you can build the ultimate passive income business!
Today I'm going to show you the technique I have used to find hundreds of products to sell on Amazon.
These methods have worked for me and they can work for you too, you've just got to be willing to put in the work.
Now before we go any further I want to give you something. The techniques I show you in this article are done by using Helium 10, let me show you exactly what i think of this software.
Best All-In-One Seller Tools
If you want to use it you don't have to pay full price, you'll find exclusive discount coupons below.
Use EBOSS50 to get 50% off your first month with Helium 10. This discount code works for the following plans: A La Carte, Platinum & Diamond
Use EBOSS10 to get 10% off either the monthly or annual plan. This discount code works for the following plans: A La Carte, Platinum & Diamond
**Remember, if you use these and go onto make a purchase, I will make a small commission at no cost to you**
Before we get into the method, let me show you how selling on Amazon works.
How Does Selling On Amazon Work?
Ok, so when it comes to selling on Amazon you have two main options:
Fulfilled By Merchant (FBM Seller)
Fulfilled By Amazon (FBA Seller)
If you are an FBM seller you will have to ship out every order yourself.
This may well suit you and your business set up, you'll pay less in Amazon fees BUT you'll have the cost of fulfilling and managing that side of things (No, thank you – Not for me)
With FBA Amazon do all of the heavy lifting for you…
With this business model, all you need to do is send the goods you wish to sell to one of Amazon's FBA warehouses and from there they do the rest.
It's pretty simple, a customer will buy something and Amazon will pick, pack and post the product out on your behalf…
The Amazon FBA business model is the reason my two business partners and I could work full time whilst building up our Amazon business on the side 😉
Now, be warned… You will need to be prepared to work hard.
Amazon FBA requires time and effort but it is so worth it in the long run.
We'd spend most of our evenings and weekends working on our Amazon business, we still all had full-time jobs when we started, it felt like the safest way for us to escape the typical 9 – 5.
Anyway, enough about that… Let's dive into the method.
Let Me Take You Through My Process – Step By Step
In order for me to answer this question effectively, I want to break down the process step by step.
Finding a product to sell on Amazon is pretty straightforward once you understand what you are looking for.
I'd encourage you to refer back to this guide during the product research process, you need to be asking yourself the following questions.
What Does A Good Product Opportunity Look Like?
For me, a good opportunity is something that's in high demand but has low levels of competition.
This really applies to anyone in business.
It's that age-old supply and demand business model…
Anyway, we want to find a product with high demand (lots of potential customers) but a low supply (Not many potential competitors).
If you can serve a market like this you can dominate the space with your own private label amazon product…
This leads us to an important question.
How Do You Find Products With High Demand But Low Competition?
The Amazon platform is home to millions of different products, so how are you supposed to find the right product to sell?!
In order to answer this question, we need to think about some key product characteristics.
Once you've learned my technique you can use the following checklist to improve your product sourcing decisions.
1. Priced Between $20 – $30
In my experience, this has always been the sweet spot…
A customer will require much less convincing when purchasing items under the $30 mark…
These are the sort of affordable products we want to consider selling.
When times get tough some people will stop and think about those $50 – $100 purchases.
Your associated costs will also increase with the product's price point.s
This is why I recommend this price range for anyone that's just starting out.
2. Avoid Seasonal Products
Some people have great success with seasonal products BUT if you haven't got the experience you could be putting yourself under unnecessary pressure….
I prefer to look for evergreen products that have demand all year round.
With seasonal products, you have a limited window of peak selling opportunity.
Let's say you've got a product like a handheld fan…
Well, this product will sell like hotcakes in the warmer months but as it cools down so will your demand.
You don't want to be left with excess stock that you can't sell for another three-six months.
3. Look For Products With Under 500 Reviews
Reviews matter a lot to Amazon's customers… and they should matter to you as a seller.
Avoid products that have more than 500 reviews, unless you have experience or a superior product.
There is so much opportunity out there, you just need to be patient and use the right tools. If you are interested in learning about two of my favorite research tools read my jungle scout vs helium 10 article, they are two of the biggest in the game.
4. The ShoeBox Rule
This is one that I learned from Greg Mercer (CEO of Jungle Scout) it's a great rule for beginners.
Look for products that are small and light and that you could fit inside a shoebox.
The reason for this is that the smaller and lighter the product, the less the associated costs will be.
If you are sourcing your products from overseas your freight costs will also be determined by the size and weight of the consignment.
The bigger and heavy the product, the more it's going to cost you to ship.
Amazon will also charge you more to ship the product out, if you are using the Amazon FBA business model you'll lose more of your profit.
5. Differentiate – Try To Stand Out
You need to try and give your customer a reason to purchase your item over your competitors.
I fully understand that it isn't always possible or financially viable to make big changes to a product.
But you can differentiate yourself from the competition in a number of ways:
Quantity – Can you offer more than your competitors?
Design – Is there a design aspect you can improve?
Color – Is there a different color that your target audience may prefer?
Additional Bonus – Can you include something extra to compliment the product (eBooks, Free item, etc)
It doesn't have to cost you the earth, if you are struggling for ideas speak with the factory and see what's possible…
Improving one individual design element can make a huge difference to the customer experience.
Look at your customer's negative reviews and see if there are any pain points you could solve…
I explain exactly how you can do this in the video below.
6. Manufacturing – Keep It Simple
We want to avoid complicated issues when it comes to the manufacturing side of things…
Try to focus on products that are simple to make!
If you are only just starting out you might want to avoid electronics (unless you have experience and connections in this field).
When investing your hard-earned money, you need to minimize risk where ever possible.
If you buy 1000 battery chargers only to find that they have a fault or safety issue your life as an amazon seller is going to be short-lived!
If you haven't got experience stick to products that are simple and easy to manufacture.
Now you know what to look out for let me tell you how I go about finding these products.
Techniques To Help You Find The Products You Want To Sell
Now there is a number of different tools you can use to find products to sell.
I'm going to show you the two methods I use most at the moment.
These two methods focus on one piece of software but if you'd like to use something different you can absolutely do that (I'll give you some alternative software options at the end).
The Automated Black Box Method
Currently, I like to use a tool called BlackBox…
It's been created by the guys over at Helium 10 and it makes product research a lot easier for me.
By using this tool you have to power to trawl through and find potential amazon products based on set criteria…
Now, as promised I'm going to show you exactly how to find products with high demand and low levels of competition…
I'd seriously recommend watching the video above, it's going to be the quickest way for you to learn this method.
The above method works because the filters we set are allowing us to see product opportunities that aren't too popular yet.
Well, the products are popular with consumers but NOT popular with Amazon sellers… Yet
This means we can find our way into the market.
We have the opportunity to launch a product and take our seat at the top table.
If you are only just starting out products like this are going to give you longevity without the need for a huge marketing budget.
Use this method to make a shortlist of potential ideas, then go through the strengths and weaknesses of each one.
The Manual Extension Method
Although this method takes a little more time and attention it is still one of my favorite methods.
The good old-fashioned manual trawl.
First things first, you are going to need this handy Chrome extension.
For enhanced results, I'd recommend using this method with the above-automated black box method I've just covered…
The black box method will give you a number of keywords that could be of interest to you.
Make a list of all of the keywords/product ideas and head over to the Amazon marketplace of your choice.
Ok, so let's use a random example of a keyword I've previously found in one of my Youtube videos.
The keyword "Cigar Ashtray" always looked pretty interesting to me.
Using Magnet, another one of Helium 10's tools I can see that this keyword currently has a monthly search volume of 11,811.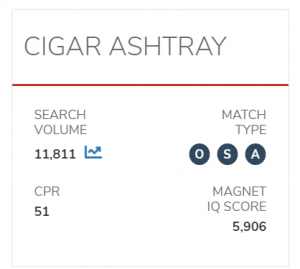 The average product review level for this keyword is 320, which isn't too bad!
Are you starting to see the power of this method?
I thought you'd like it.
Ok so let's get back to the manual extension method…
Next, I'd take the keyword "Cigar ashtray" and head over to Amazon.com for further investigation.
Ok so I've searched this keyword on Amazon, clicked my chrome extension button and instantly I've been given A LOT of useful data.
We can see here that there is real potential with this product, although you would need to differentiate your offering in some way…
Some of the sellers have a lot of reviews, from this point I would start digging in deeper.
I'd use Magnet to find more specific types of cigar ashtrays.
By digging through the results you can find other unique product ideas that might be hidden within this market.
Look what I've found…
This is an ashtray coaster, that could also hold your whiskey glass.
According to Helium 10, this product does $9,000 a month and it only has 74 reviews.
This is how we do it, my friend.
If you want to learn how I use all of these tools I'd advise you to read my Helium 10 review.
Anyway, as you may know, I'm a full-time Amazon FBA seller…
As mentioned earlier… FBA stands for fulfillment by Amazon.
If you enroll your products in the Amazon FBA program they will store, pick, pack and send products out to customers as your orders come in.
I love this business model because it allows me to focus on the growth side of the business rather than the heavy lifting.
So, if we are looking at the Amazon FBA model is product research any different?
How To Find Products To Sell On Amazon FBA?
So let's look at some of the key things you need to think about if you want to find products to sell on Amazon FBA.
Best Products To Sell On Amazon FBA
The main thing to think about with Amazon FBA is the size and weight of the product you want to sell.
The bigger, heavier products will cost you more on the fulfillment fees side of things.
You'll also pay more in Amazon storage fees.
If you don't want to use Amazon FBA (not sure why you wouldn't) your other option is FBM.
FBM stands for fulfilled by merchant and it simply means you are fully responsible for the storage and fulfillment.
You'll need to store, pick, pack and post out every order that comes in…
Here are some more useful tips for Amazon FBA.
1. Avoid The Best Selling Products
We want to avoid the extreme ends of the spectrum.
The products in the top 100 of any category are going to be VERY competitive.
This is largely due to the fact that Amazon publishes the top 100 sellers in each category.
If you don't have the budget or experience you are going to find things difficult.
Look for the products that are popular but not too popular.
2. Look For Durable Not Fragile Products
We've already spoken a lot about the weight and size of a product but the durability is also important.
Selling products that are easily breakable is just going to increase your risk.
If you are sourcing products from overseas your products are going to be moving around a lot…
When your products are checked into Amazon FBA you'll only be able to sell products that are in top condition.
Amazon will reject any damaged items.
3. Start Small And Build Confidence
When we started selling on Amazon we ordered 500 units for our first order.
We actually sold out pretty quickly BUT I'm glad we started with a smaller amount.
If you haven't sold a product on Amazon before i'd recommend starting with a smaller order quantity.
An initial order of say 500 – 1000 units might be a good starting point.
Nowadays the minimum we order is around 3000 units…
But we have built up our confidence over the years.
We've been selling on Amazon for some time now and order quantity is still a risk we have to calculate.
Hopefully these tips are useful for you if you are trying to work out what to sell on Amazon fba.
When it comes to selling on Amazon you do have different options when it comes to the business model.
I discuss each of the business models in the article above but to give you an overview the most popular models are:
Amazon Private Label
Online Arbitrage
Amazon Wholesale
I've had experience with each of these business models but now i'm fully focused on Amazon private label!
With private label you actually own the asset that generates the income, that's why i love it so much!
How To Private Label Products
So how can you private label a product to sell on Amazon?
This is a question i'm asked quite a lot and I get it, when I started the words "Amazon private label" were a foreign language to me.
To private label a product you first need to find a factory/supplier that produces the product you wish to sell.
With private label a manufacturer creates the product for you to sell under your own brand.
You may well have heard people referring to private labeling as white labeling, they are both the same thing.
Some people struggle to get their head around the private label concept and i did too at the start!
Think of it this way, a factory or manufacturer wants to produce as many products as possible…
The more they produce, the more money they will make.
This is why it makes sense for a factory to offer a product solution for private label sellers.
As a private label seller, it's your job the sell the product.
It's a match made in heaven.
The factory can focus on manufacturing, the private label seller can focus on the selling 😉
Is Selling On Amazon Worth It?
So here is the big question, is selling on Amazon actually worth it?
This is a very simple question for me to answer:
Yes, it is.
However, i would say that it depends on your business model.
With the online arbitrage business model we found that we were doing a lot of work for a very small amount of profit.
For us the private label business model was a much better fit.
The profit margins are higher and you actually own the brand as an asset.
If you build your brand in the right way it can be incredibly valuable.
You won't experience the same benefits when selling other peoples products.
Building a brand gives you the chance to build a relationship with a tribe of customers.
Selling on Amazon has allowed me and my two business partners to quit our jobs and work for ourselves full time.
In my opinion, the Amazon private label business model is the gold rush of our generation.
Selling on Amazon is worth it IF you are making a profit and working as you want to work.
Conclusion – Let's Wrap It Up
I wanted to write this article to show you with your Amazon product research.
Hopefully you now know how know a lot more about the process.
I've managed to create my own online business and freedom using the exact methods I've shown you.
Now I also promised to give you some other alternative product research software options.
Helium 10 is the software that I currently use the most but I also like Jungle Scout and Viral Launch.
I dropped a link to my review of jungle scout earlier but if you are interested in VL you should read my viral launch review article, it covers everything in detail.
I'm going to make sure I put together some tutorial videos for the YouTube channel so you can see exactly how I use it.
They have a number of different amazon seller tools that I find really useful.
Over the years I've also used Jungle scout on and off.
I've actually written an article to compare both jungle scout and viral launch, if you can't decide between the two I'd give it a read.
I really hope you have enjoyed reading this article, you should now know how to find products to sell on Amazon.
If you've got any questions please ask away below and I'll do my best to help.
One more thing, if you really want to take your research to the next level you should check out our training.
More from me soon!
Nick
eBusiness Boss