Amazon is a renowned marketplace and one of the best places to begin your journey as an online entrepreneur. It's a step I don't regret taking, which is why I've put this guide together on how to open an Amazon store.
There are a number of platforms you can use to sell products online, but Amazon stands out for a few reasons.
One way that Amazon makes it easier to succeed as an online entrepreneur is their marketplace access, you literally have millions of potential customers at your fingertips.
As a platform, Amazon is focused on providing a superior customer experience, something you as a seller can benefit from.
Before you get started with the set up of your Amazon store, let's look at how these stores work.
How Amazon Stores Work
Fortunately, the Amazon platform is easy to navigate and understand as a potential seller. Here's what an Amazon store allows you to do:
Promote Your Brand and Products. A store helps potential buyers locate your product portfolio and any related items – it also increases brand awareness.
Create an online store without coding skills. If the thought of having to build a complex online store has previously stopped you from taking the leap, that changes with Amazon. Using drag-and-drop functionality and pre-designed templates, you can easily create a customized online store without coding knowledge.
Benefit from a unique web address. When you create an Amazon store, you get a unique Amazon web address. This way, you can drive people directly to your store via ads and social media marketing.
Access store insights and tools. As an Amazon store owner, you get access to insights and tools that can help you grow your store and boost your sales.
Amazon Seller Requirements
In order to set up an Amazon store, you need to meet a few requirements.
To be accepted as a seller, you will need the details of your legal business, an email address, a credit card or bank account details, and a contact number.
If you're a US seller, you will also need a tax ID, as well as a state tax ID. If you happen to be a UK seller, you will need to register for corporation tax.
If you want to open a US Amazon store but you live outside of the US watch the video i made below, it explains the steps.
I recommend reading through my blog about business licenses to see the additional requirements for starting an online business.
How to Open an Amazon Store
Now that you know the basics of what you require to get started, these are the steps you need to take to open an Amazon store.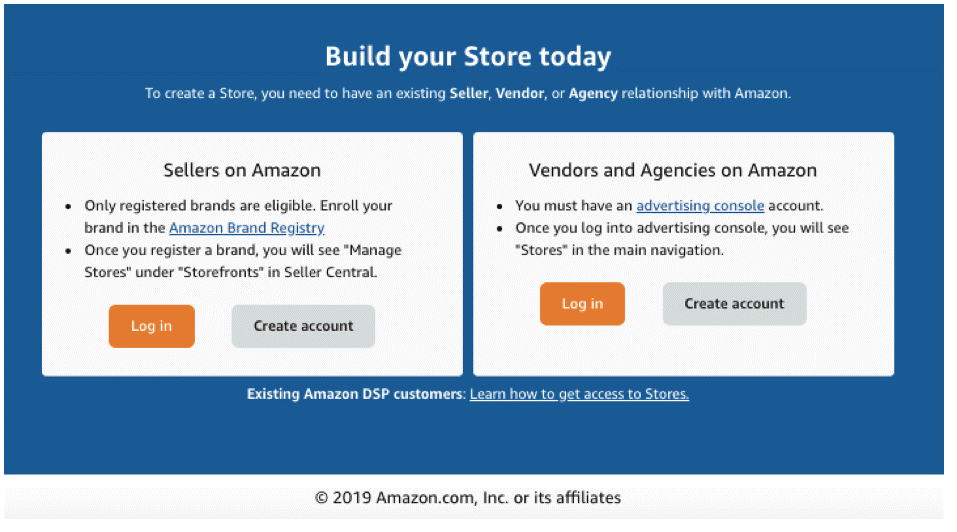 Create Your Seller Account
The first step in this process is to create a professional Amazon seller account. Once you enter all the necessary details, you get to purchase an online store and select the items you want to sell.
Amazon still needs to put you through a verification process before you can get started though. Along with double-checking all the details you provided; they will also contact your business to verify it exists.
It's reassuring to know that Amazon's approval process is strict, so not just anyone gets to sell on its marketplace. This process helps protect sellers and customers by limiting counterfeit goods and sales.
It also helps remove sellers who aim to manipulate organic rankings, a tactic that makes it difficult for other sellers to succeed.
Along with the details mentioned in the previous section, you also want to have a copy of your ID and bank account statement ready during sign up.
Register with Amazon Brand Registry
Once you've been approved as an Amazon seller, you need to apply for the Amazon Brand Registry program.
This not only allows you to open an Amazon store for free, but the tools help you to improve your brand.
Amazon Brand Registry gives you access to restricted selling categories, as well as enhanced marketing and advertising features. Unfortunately, resellers can't access these tools.
Once your brand is registered, you have the ability to create a branded storefront and enhanced content for your product pages, which includes rich text and media.
As a registered brand, you also don't need to worry about counterfeit sellers or anyone who attempts to violate your brand's trademark.
In order to qualify for Amazon's Brand Registry program, you need a brand serial number, which you can obtain from the United States Patent and Trademark Office.
You also require a list of countries where your product is manufactured and distributed, a product label image, and product images.
Use a Template to Create Your Home Page
Now that you have a seller account and a registered brand, you can start on your home page.
Start by logging in to your Seller Central account, click on Stores and Manage Stores. This will show you which of your brands qualify for store creation.
Once you select the brand you want to use, Amazon provides you with additional prompts, which includes selecting a template for your home page.
There are four different themes to choose from, one of which will be best suited to your brand requirements.
Create Pages for Your Store
After you've finalized your home page, you can start adding more pages to your store. These are generally based on deals, best-sellers, and catalog categories.
Structure your Amazon store pages in the same way you would a regular eCommerce site. This means making sure users have the best possible experience. Focus on navigation, convenience, and general usability.
Once your pages are in place, add content tiles to each of them. This is the content customers will interact with on each page, including video, images, and products.
Add Products to Your Store
The next step is adding the products you want to sell to your store. Fortunately, it's easy to upload your entire range in one go.
Every product has an ASIN, which makes it possible to copy and paste your products. Amazon makes it easy to search for the ASINs for each product you want to sell. If you are creating your own products, once you've create a listing you'll find your ASIN on the manage inventory page.
If you're still searching for the right products to sell, here's a video that will help with the process.
Get Approval from Amazon
If you're happy with the design and set up of your pages, do a few final checks. This includes checking the grammar and spelling, images, and navigation. You can also check your store in Preview mode to make sure the pages are showing up how you envisioned they would.
Once you submit the pages, Amazon will review them before setting them live. In most instances, stores go live in a minimum of 72 hours.
Making the Most of Your Amazon Store
Here are some additional tips that will help you get the most out of your Amazon store.
Plan Out Your Store
Even though Amazon is a powerful platform, it's still a highly competitive marketplace. Taking the time to plan out your store and come up with a creative design will serve you well in the future.
By planning out your store, you ensure it's easy to navigate. The easier it is for potential buyers to explore your product line, the better it is for your bottom line.
It all starts with choosing the right template for your Amazon store. The marquee template is ideal for telling your brand's story in a creative way, while the product highlight template allows you to showcase a flagship product.
The product grid template displays a larger number of products and is ideal if you don't have a core product that you want to promote.
Lastly, there's a blank template for those who want to be creative in a way that works for their brand.
Along with choosing the right template, don't forget to choose colors that fit in with your brand as well as high-quality images. A site that showcases quality media and looks cohesive is automatically seen as more trustworthy.
Create Awareness of Your Unique URL
Having a unique Amazon URL is one of the perks of having a store, so make sure you're promoting it in all the right places.
Have an email database? Create a campaign to launch your new store. Have a social media following? Make sure you're directing customers to your unique URL.
By making customers aware of your URL, it's easier for them to remember your brand and find it later on again.
Prioritize Your User Experience
Amazon stores make it easy to create a memorable experience for customers. From handpicking your products and inserting them into unique displays to using dynamic widgets to boost store functionality. There is so much you can do to enhance your customer experience.
Create a Diverse Marketing Strategy
There are ways to promote your store on and off Amazon, make sure you're doing both.
One way to drive more traffic to your Amazon store is to create Headline Search Ads, which appear at the top of search results. Another is to link to your store on product detail pages.
If you're marketing your store on social media or other third-party platforms, always use your unique URL.
Amazon's reporting tools are also a must for optimization, you can then make improvements to increase your views. Amazon Store Insights gives you access to product-specific metrics.
Here's some of the data you can view:
Views. The number of times a page was viewed over a specific period.
Visitors. Total number of users or devices that accessed a store page on a given day.
Sales. Total estimated sales received for each product within 14 days of a user's last visit.
Units Sold. Total estimated units visitors purchased within 14 days of their last visit.
Organic Traffic. Traffic generated within Amazon, including detailed page links.
Headline Search Ad Traffic. Traffic received from headline ads.
Tagged Sources. Traffic tracked via custom source tags, which can be created for multiple traffic channels.
Other. Any other traffic that can't be categorized.
If you want to improve your Amazon selling skills even further, check out our Private Label Amazon Training.
Scaling Your Amazon Store
There are four core business models that 3rd party sellers use, we've tried a few but now only stick to one.
Retail Arbitrage
Retail arbitrage involves purchasing products from retailers at a lower price to sell them on Amazon at a higher price. This can be a more time-consuming way to scale your business, but it's still effective for some.
Many sellers choose to hire a virtual assistant to make this tactic slightly less time-consuming. Here's what you need to know about hiring an Amazon VA.
The ideal is that you're able to sell a product for at least three times the price you purchased it for. Sourcing products is of course the bit that requires skill.
Having to prep these items before you send them off to Amazon also takes up a lot of time, if you don't want to do it yourself you can consider using a 3rd party prep partner.
This isn't the business model we recommend but some people find success.
Online Arbitrage
Online arbitrage involves purchasing products from an online source to resell on Amazon.
To make this tactic work, it helps to search for products across a larger number of sites, to scale you'll need VA's to assist you. We tried this for around a year and decided that it wasn't for us.
While this tactic works for some, we won't be doing online arbitrage again, here's why.
Wholesale
Wholesale is another potential route, it' has become more popular recently, but you'll find that profit margins are much tighter. On the plus side, inventory availability is vast if you can find a build relationships with the right suppliers.
The process is fairly straight forward, you purchase from a wholesale supplier or a brand direct, prep your products and send them into Amazon, rinse and repeat.
One of the biggest cons of wholesale is that you're more than likely purchasing top-selling products, which means the competition is potentially high.
Private Label
As a private label seller, products are manufactured for you with your own labels and logo.
In most instances, sellers outsource the manufacturing to China or India. However, with the right manufacturer, you can keep it local and still make a profit.
The reason why private label is my preferred choice is because nobody else can sell your product without your permission.
To grow your business using this tactic, you simply need to find more products that you can manufacture and sell on Amazon. You could even outsource the product sourcing to someone in the country you plan to manufacture in.
Many sellers use platforms such as Alibaba to source products. Alibaba can be good, we use it too just make sure you're aware of the potential risks.
We started our private label business with around $2000, it's a brilliant business model if you know what you are doing. I always tell our students, focus on building a brand not just a random line of products.
Opening Your Amazon Store
Creating an Amazon store is hardly complicated – what does take time is the strategy behind it.
It's important to build a brand, understand your target audience, and know which products are going to bring you the most profit.
I would highly recommend undergoing some training and using any spare time to educate yourself on what it takes to become a successful seller.
We're always posting new useful content on here as well as our YouTube channel.
Have any questions about how to open an Amazon store? Post them in the comments section below.
Speak soon!
Tags:
amazon basics
,
open an amazon store
,
start an amazon store