Amazon is the place-to-be for any e-commerce merchant. Its marketplace is by far the largest e-commerce platform globally, and it's still growing at a tremendous rate. Zooming in on the Amazon store, you get an idea of just how massive Amazon is.
Last year it sold $141.2 billion in products and made $53 billion in revenue from the Amazon marketplace. In other words, nearly 20% of its revenue came from the fees that third-party sellers pay to Amazon for listing and fulfillment. 
These numbers give you an idea of just how big Amazon and its Amazon marketplaces are. But just where exactly do these $53 billion dollars come from? Who are the third-party merchants that are active on Amazon marketplaces globally? And who are the sellers that make the most revenue?
Keep on reading and find out!
Today you are going to discover everything you need to know about the Top Amazon Marketplace Sellers.

The Undisputed Leader
But before we answer these questions, let's first take a look at Amazon's marketplace and FBA activity worldwide. Amazon currently sells products through 14 different marketplaces, from the USA to the United Arab Emirates.
Share this Image On Your Site
As you can see from this pie chart, while Amazon truly is a global company, the majority of its marketplace revenue still comes from the United States. This becomes clear not only when you look at the revenue per marketplace, but also when looking at the number of sellers active on different marketplaces.
Share this Image On Your Site
Specifically, nearly 40% of all sellers who sell through the Amazon platform are active on the American marketplace. Amazon.com is still the undisputed leader of all Amazon marketplaces. For this reason, we'll further zoom in on the company's American marketplace.
Breakdown of Amazon Seller Revenue
While the top sellers on Amazon.com certainly bring in the most revenue, the amount of sellers on the marketplace is big. In 2020, around 464,000 sellers are active on the platform; meaning they have at least one product to sell. Of these 464,000 companies, some do just a few dollars in sales every month, while others rake in thousands of dollars on a monthly basis (and much more than that annually). 
Share this Image On Your Site
If we take a look at this data from 2019, we see that just 3% of all Amazon marketplace sellers make more than $250,000 per month in revenue. While this 3% seems like a small number, it represents around 14,000 sellers! Although the profit that these sellers make heavily depends on niche and product margins, these 14,000 sellers truly are the top sellers on Amazon.com. 
Locations of the Top Amazon Sellers
So where do these 14,000 sellers come from? Actually, the vast majority of the largest sellers on Amazon.com are also based in the United States. If we look at the top 100 sellers on Amazon.com alone, just 17 are officially listed as having their location outside the US. This includes 11 companies from China, 5 from Hong Kong, and 1 from the United Kingdom.
If we zoom in and look at US-based sellers, it's clear that most companies are based in or nearby major logistical hubs and populous states such as California and New York.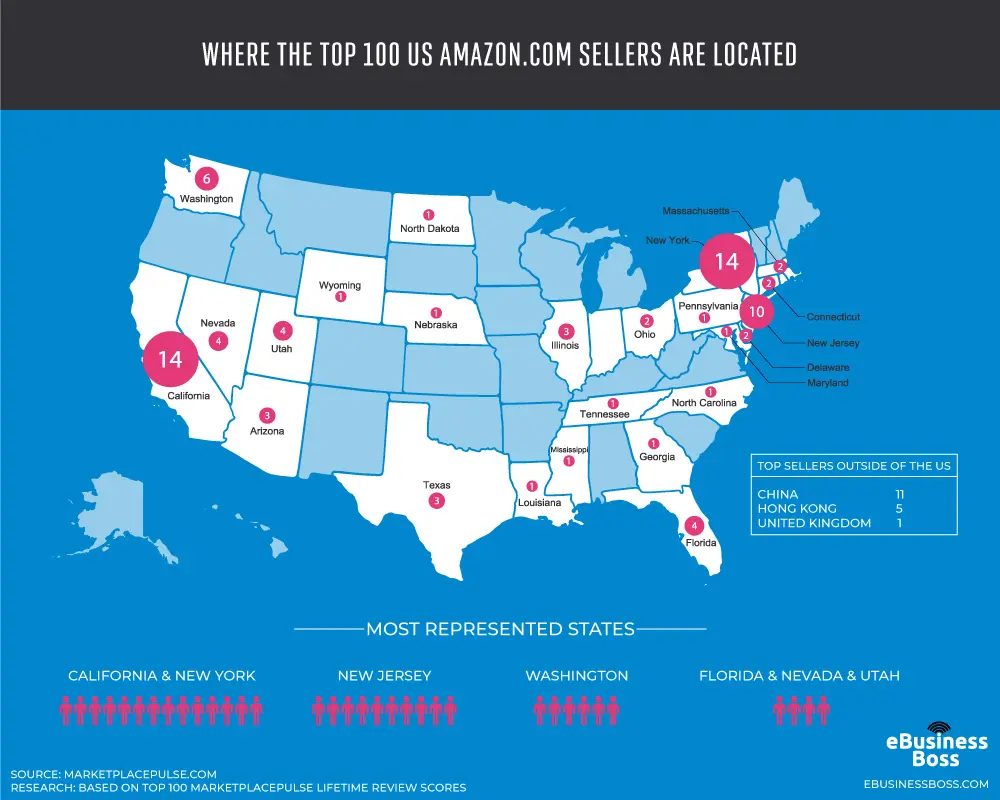 Share this Image On Your Site
However, if we look just at the top 5 biggest sellers on Amazon US, you see that many of those that are located in the US also have locations throughout the world. That means that they are not necessarily American companies; their Amazon US operations are simply managed from US-based companies and LLCs, which in some cases (such as the number 2 in the list, AnkerDirect) are subsidiaries of non-American entities.
Amazingly, after publishing this article, one of the top 100 Amazon.com sellers reached out to me. We got chatting and I ended up interviewing him, I learnt A LOT from the conversation (You'll find the video below).
Related: The 9 Best Amazon FBA Podcasts That You Should Know About
Top Amazon Sellers 2020 
So of those 100 companies, who are the actual biggest sellers on the Amazon.com marketplace in 2020? 
Unfortunately, if we want to get to a top 10, we can't use revenue numbers. This is because there is no way to get the actual revenue data of specific FBA sellers. Luckily, we can take a look at the amount of reviews any particular seller gets over a specific period, to get to a good top 10 list of sellers.
Share this Image On Your Site
Certainly, looking at reviews to determine the amount of revenue a seller does is not a perfect solution. However, since Amazon does not share the revenue data of sellers openly, this metric (amount of reviews) is the best proxy variable we can use. 
Profiles of the 5 Biggest Retailers
You've seen a list of names by now (in the graph above), but you probably haven't heard of most of them before. Interestingly, they are active in a wide range of niches and Amazon categories, though all top sellers sell products that you use daily. From cosmetics to apparel and from electronics to office supplies; if you want to become a top seller, it seems that you need to sell things that people regularly need. 
With that out of the way, let's dive deep into the top 5, and create a profile of each. We'll discuss Pharmapacks, AnkerDirect, EPFamily Direct, Utopia Deals, and MetroDecor one by one.
Pharmapacks
Pharmapacks is without a doubt the biggest seller on Amazon.com, and actually the 3rd largest retailer on Amazon if you take into account all Amazon marketplaces globally. With over 110,000 ratings over the last 12 months alone, it has an impressive number of products listed in different niches, from cosmetics to medical supplies, and from nutritional supplements to electronics like light bulbs or steam irons, Pharmapacks hosts an impressive range of products. 
Although a large part of their sales comes from the American marketplace of Amazon, the company also sells through other platforms like Walmart, eBay, and Google Shopping. With over 31,000 SKUs sold, they work with large brands such as Listerine and L'Oréal, and smaller brands that they help to reach more sales.
Pharmapacks was founded in 2010 in New York and grew from just two founders (Andrew Vagenas and Brad Tramunti) to over 850 employees and grows still by around 70% per year.
AnkerDirect
AnkerDirect is the second largest Amazon.com seller. The official storefront of the Anker brand, this company sells a wide range of electronics and electronic accessories. These include cables, wireless charging docks, power banks, and much more. 
At the time of writing, the company sells 392 products on Amazon.com, under the brands Anker, Soundcore, ROAV, Nebula and Zolo. While AnkerDirect is a subsidiary of a California-based company (Fantasia Trading LLC), Anker itself is a Chinese company founded in 2011 by a former Google engineer named Steven Yang. While Anker started off selling solely on Amazon marketplaces globally, it now also sells products through its own website and other third-party platforms like eBay and Walmart.
EPFamily Direct
EPFamily Direct comes third in the biggest Amazon sellers list. The company mainly sells household and office products under 5 different brand names. While the amount of products it sells on Amazon.com isn't a whole lot (397 to be precise), EPFamily Direct sells an impressive number of each of those products.
Consider for instance a shoe organizer that you can hang over the door, which has over 36 thousand reviews. Or a trash can for your car, with over 15 thousand reviews. But despite its impressive number of reviews and sales on Amazon.com, there is very little known about this company. It doesn't have a website, nor have we found out who owns the company or runs it.
Utopia Deals
Currently the fourth largest seller on the Amazon US marketplace, Utopia Deals sells bedding, apparel, and kitchen supplies. The company currently lists just shy of 200 products on Amazon.com, though it also sells directly to consumers through its website, and other marketplaces like Walmart, eBay and Jet.
Since its inception in 2011, Utopia Deals has sold over 20 million products globally and currently serves more than 15,000 customers daily. The company is headquartered in New York and manufacturing facilities in Pakistan.
MetroDécor
The last but not least in the list is MetroDécor, also known as the mDesign brand. MetroDécor is an Ohio-based company that provides product solutions to organize and decorate homes and offices. That means it sells products like food storage containers, bins, nightstands, and much more.
Interestingly, mDesign is a subsidiary of InterDesign, which started over 40 years ago. mDesign and its sister company, iDesign, sell similar products, though mDesign is mainly focussed on e-commerce. As such, it currently lists over 2,000 products on Amazon.com — selling many more SKUs than UtopiaDeals or the other companies that take the lead in this list. 
Changes in the List (2019 vs 2020)
Looking at the top 10, we see that there are a number of changes compared to last year. Specifically, Pharmapacks, AnkerDirect, Zappos, iServe and EPSFamily Direct are still in the top 10, with the first two not even changing one spot! However, companies like Better World Books and 6pm, who were still in the top 10 last year have made place for others like MetroDecor, Juvo+ and Utopia Deals.
What this shows is that even for the largest companies selling on Amazon, everything can change. Even though we've shared with you a list of companies that are making the most revenue on Amazon.com today, we may see quite a different list tomorrow.
Amazon's Top Sellers of 2021
Of course, we can't say what exactly will happen in 2021. However, companies like Pharmapacks and AnkerDirect really sell a tremendous amount of products each month. So it's likely that they will stay at the top. Considering the amazing growth that these companies have shown over the last years, there is no reason to doubt that they will again dominate the list of top Amazon.com sellers next year. But if you're an FBA seller on Amazon yourself, you know that nothing is certain — and perhaps in 2021 we will see you enter the top 10 yourself!
You should now know everything you need to know about the worlds top Amazon marketplace sellers!
I truly hope you have found this interesting, we've been selling on Amazon full time for over three years now, in this article, I explain how we have built our business from the ground up.
More soon,
Nick