Are you wondering what an Amazon OTP is? If you are, don't worry, you aren't alone.
Online scams and phishing schemes have become more and more common. I think you are right to look into the legitimacy of almost everything.
Amazon has millions of customers. Their responsibility for data privacy and security is growing all of the time.
Amazon introduced OTP as a two-step verification, security measure.
In this quick guide, I will be exploring what buyers and sellers need to know about the verification codes they receive.
What Is An Amazon OTP?
First things first let me explain what an Amazon OTP is.
OTP Stands for One Time Purchase. The OTP is part of Amazons two-step verification; they introduced it a while ago as an additional security layer.
An Amazon OTP can be used for many different reasons.
You might see it when trying to log into your account or when you purchase particular types of products (more on that shortly).
Amazon will generate a random number as an OTP; this will then be sent to your registered phone number or email address. From this point, you verify it's you by confirming the unique code that was sent to you, it's as simple as that!
Related: How To Find My Reviews On Amazon
Is Amazon OTP Legit?
Amazons OTP program is most certainly legit.
Aslong as the text or email was sent from an official Amazon address you have nothing to worry about.
As a buyer you might also receive an OTP request with certain items, usually items with a higher value!
In order for Amazon to deliver these items, an OTP, or one-time password can sometimes be required.
An Amazon OTP adds an extra layer of security to your most valuable packages. Should an OTP be required for certain deliveries, Amazon will send the necessary 6-digit pin to your registered email address.
Whether you are a buyer or a seller, if you have received an OTP without doing anything on your account, it's important to change your password right away.
If you are really worried raise a case with Amazon and they'll investigate right away.
Why Has Amazon Sent Me a Verification Code?
Next, let's move onto the reasons why an Amazon user might receive a verification code.
If you receive a verification code from Amazon, chances are someone is trying to access your account with the incorrect password. Should this happen and you weren't trying to gain access, change your password immediately and check your banking.
Keep in mind that Amazon will also never ask you to log in to a URL that isn't linked to Amazon.com. If this does happen and the URL isn't what you usually use to shop, ignore the text or email and report it to Amazon.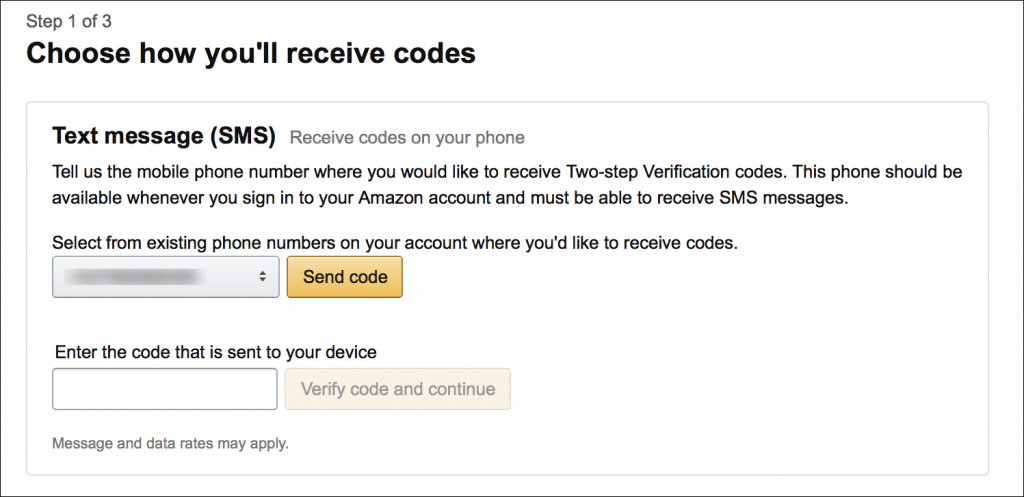 (Source: Intego)
Can You Turn Off Amazon OTP as a Shopper?
If you would prefer to not receive an Amazon OTP as a shopper, you can turn it off by logging into your account and selecting Login & Security.
From here, select Edit next to the option for Two-Step Verification Settings (2SV). You will now have the option to disable 2SV.
You will need to enter the code that is sent to your phone one last time though.
Related: How To Compare Products On Amazon
Can I Disable Two-Step Verification as a Seller?
Amazon makes it a little trickier to disable two-step verification as a seller.
You can do it via the Advanced Security Settings page.
The catch is you might not be able to login to Seller Central again without entering a verification code.
All Seller Central users need to enable two-step verification if they want to continue using their accounts.
If you have further questions about two-step verification and Amazon OTPs, I suggest you take a look at this helpful FAQ section on the Seller Central site.
That's all for this guide.
More soon.